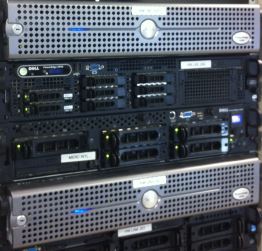 Have you every considered the advantages of locating a server off-site at a colocation facility, away from your office?  You may not have, but the advantages could be significant.  I will describe the more obvious ones here, but for a full discussion of Colocation services please click here.
Your office computer system has become a vital part of your business.  It would be hard to imagine trying to operate without it.  In some cases it might well be impossible.  The data on it is irreplaceable, and yet access to it is dependent upon the reliability of the hardware and the power needed to operate it.  Hard drives fail and power cuts happen without warning.  The reliability of your office connection to the Internet could also compromise performance.  And if disaster strikes you could lose everything.
Putting a server at a co-location facility can significantly reduce all these risks to your business.  The facility will provide you with reliable backed-up power, an air-conditioned environment, data backup, a reliable commercial quality internet connection, and technical assistance, amongst other services.
Here are some of the advantages of having your server at a colocation facility:
a commercial quality Internet connection
a place to back up your office server data
replication of your on-site database server
protection against disasters at your office
secure web and email servers
24/7/365 server monitoring
technical support
Did you know that you can have a server at a colocation facility without actually providing one?  Most colocation facilities can furnish you with a virtual server.  As the name suggests, this is not real hardware.  Each virtual server is created on a meta-server that the colocation facility provides, monitors and backs up.  But in every other respect your virtual server acts exactly like a "real" server, but without the hardware issues.
So if you want to run a website; back up your business data; provide email services; and remove the worry of maintaining these services in your office, maybe it's time to look into the advantages of server colocation.